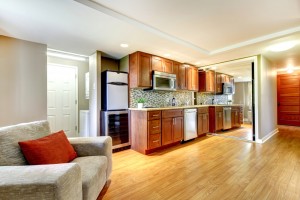 Choosing from the myriad of hardwood flooring options can be a tedious process. There are many different types of wood, not to mention differences in length, width, and cut of the wood. These decisions can make any homeowner's head spin.
While you're busy considering what type of wood might be right for your home, you're most likely overlooking the "where" of the matter. A cut of wood might look and feel exceptional to your untrained eye, but how can you know that you're getting a quality product?
In the world today, there are only a handful of reputable mills and installation companies to choose from. At Smith Bros. Flooring, we pride ourselves on being one of the most trusted names in the business. If you're thinking about replacing your existing hardwood floor, or upgrading your carpet floor, you shouldn't settle for anything less than the absolute best. Here are a few benefits of choosing your wood from reputable mills and installation companies:
• You Know What You're Getting
If you're looking into remodeling your carpet or hardwood flooring, you want to go with a company that you know you can trust. Well-established mills and installation companies offer an increased level of security when it comes to knowing what kind of product you'll get.
• They Stand Behind Their Product
Because well-known mills and installation companies have their reputation to consider, they will go to extra lengths to ensure your satisfaction with their products and services. A neglected homeowner can strike significant blows to a mill or installation company's credibility.
• They Offer a Commitment to Higher Quality
In selecting hardwood mill or installation company, quality is of the utmost importance. Many companies advertise the supreme quality of their product. However, it's not enough for you to simply take their word for it.
Customer reviews are a great way to get a better sense of the quality of work done by specific mills or installation companies. The most reputable companies are well aware of this fact and, thus, they will place an extra emphasis on providing the highest quality products possible.
• They'll Be Transparent
Because these companies have a fantastic reputation to maintain, they'll be more open and honest with their customers than smaller mills or installation companies. Up and coming companies tend to hide things from their customers in order to secure the sale and continue the expansion of their business. Companies with a well-standing and long-established reputation don't have much to hide. They know they can provide high quality products and services for their customers. It's in their best interest to be up front and honest with each of their customers. Not only does this help them maintain their reputation, but it also helps them ensure that their customers receive the quality products and services they deserve.
If you're looking for a reputable hardwood flooring company, look no further than the experienced professionals at Smith Bros Flooring. We have been working with clients throughout Canada for nearly 100 years to ensure that they receive the utmost in quality for their money.
By Mark Freeland Join me on Google +