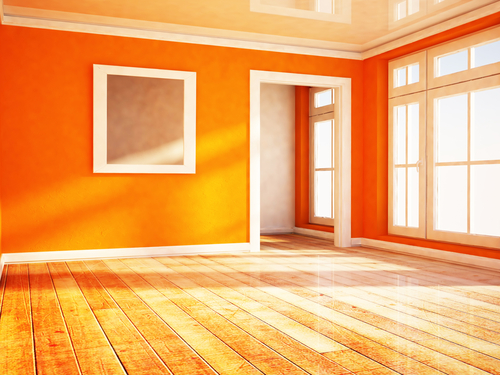 Are your hardwood floors looking a bit worn? Are they in need of sanding or refinishing to bring the shine and life back out?
Floor sanding and refinishing can be extremely time-intensive, unforgiving work. If you're trying to do it yourself and you make a mistake, you can guarantee that it's going to show. That being said, if you can do it correctly, there's nothing that brings out the beauty of a room like well-finished hardwood floors.
If you're thinking about refinishing your hardwood floors, it's highly recommended that you hire a professional to handle sanding, sealing, staining, and the application of several finish coast of oil-based poly.
However, some people don't have the budget to hire a professional hardwood refinishing company and, at Smith Brothers Flooring, we realize that. If you're determined and handy, you can attempt to refinish your hardwood floors on your own in order to save a little bit of money.
If you're thinking about refinishing your hardwood floors on your own, you should consider some of these helpful tips from Smith Brothers Flooring:
Choosing Sanding Equipment
Unless you're planning ahead to prepare yourself for several efforts to sand your floors in the near future, you'll benefit greatly from utilizing random orbital sanders for your refinishing job. While they do take longer to remove old finishes that drum sanders, they are relatively easy-to-use and are less likely to do any kind of damage to your floors. Take care to keep the sander level at all times to avoid difficult to remove sander markings.
Keeping An Eye Over Your Shoulder
The main idea here is to mind your back during the refinishing process, as it can be back breaking work. Sanders are heavy and one of the most difficult parts of the job can simply be transporting your sander from the rental store to your home. Additionally, you should make sure to get help when moving heavy furniture so that you don't strain yourself.
Staying Safe
Refinishing your hardwood floors will generate a good deal of dust and fumes. In order to keep breathing safely, you should think about stocking up on dust masks and earplugs. Additionally, you should consider wearing NIOSH-approved organic vapor respirators when applying sealers and oil-based polyurethane, as well as neoprene or vinyl gloves and eye protection with splashguards.
Maintaining A Steady Hand
Some people who attempt to refinish their hardwood floors on their own try too hard and wind up damaging their floor. You should begin by using coarse-grit abrasives to remove the old finish and most scratches on the surface of your hardwood. Be sure to avoid using grits coarser than 60, as this will ultimately help you avoid doing extensive damage to your floors.
Have An Exit Strategy
While it's important for you to apply stain evenly and seal the deal to guard against dust and hair, it's extremely vital that you start your refinishing project with a pre-existing exit strategy in mind. Of course, it makes sense to begin on the wall opposite of the door you will eventually exit. This will help you avoid painting yourself into a corner, literally.
If you found these tips useful, check out a few more suggestions by following this link today!