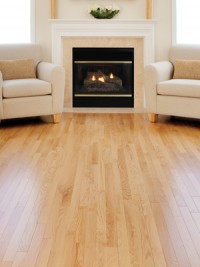 This month, we'd love to introduce to you another great supplier that we work with- Vintage Flooring! Vintage Flooring is a Canadian flooring company that has been around for 24 years. When they first opened in 1989, their main focus was unfinished strip flooring, and while they have since moved on from that service, their business has expanded in so many bigger and better ways!
Below are the top three reasons we love these guys!
1. They focus on quality! Yes, while it is true that they moved to a 70,000 square foot building in 1997, they have never taken their eyes off what is truly important, and that is the quality of the product. Vintage Flooring has invested into state-of-the-art technology to keep them as front runners in the hardwood flooring industry.
2. They are constantly updating their equipment! By updating the equipment they are using, it allows them improve on what they are currently working on and introduce new products to their existing lines (both wood species and colours). Vintage Flooring also has their own specially formulated aluminum oxide finish coats that are constantly reviewed to ensure the best protection to wood floorings as possible.
3.Their hardwood floors have become quite the celebrity on television! Featured on Holmes Makes It Right, Holmes Inspection, Holmes on Homes, Candice Tells All, Income Property, Home Heist and Sibling Rivalry, Vintage Flooring products have been starting quite the buzz in the home renovations industry.
Call Smith Bros. Floors today to speak to one of our experts and find out how a Vintage Floors line can be installed in your home!
By Mark Freeland Join me on Google +